1 May 2009 | 12:51 pm
8 Comments
FLYING PIGS AND OTHER GLOBALIZATION MYTHS…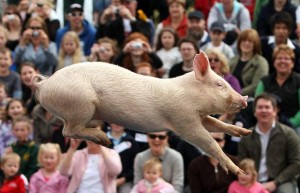 In the search for the ultimate bad guy in this scary pig flu thing, some pundits are, understandably, taking shots at globalization.
Laura Carlsen from the Center For International Policy is leading the charge. Her argument is an appealing one: Mexico, the NAFTA-sponsored epicenter of globalized production was almost destined to also become the epicenter of a new global disease. These people outline a perfect storm. They blame companies like Smithfield Foods - whose Veracruz-based Carroll Farms hog facility, with its ominous sounding "manure lagoons," lies in the vicinity of the first cases found in Mexico - for escaping developed world health standards by outsourcing production to the developing world and they point to air travel and increased trade as the reason why diseases hatched in these polluting capitalists' cesspools are now arriving on our doorsteps. Globalization, it would seem, has made disease-carrying pigs fly.
Now, I'm not going to charge that this theory is wrong. I'm not a scientist and I'll defer to the experts on whether Smithfield had a hand in this. (The company strongly denies any link, noting that none of its pigs were infected - and it's not even clear that the outbreak began with a Mexican pig at all.)  Whatever the cause, you can't argue that increased global interaction has NOT exacerbated this crisis. But if we're to have a go at poor old, much-maligned globalization, let's look at the really big picture. There's a hell of a lot more to globalization than outsourcing pig farms and shifting Spring Break from Florida to Cancun.
First, let's look at the Mother of all pandemic diseases, the one that is so ingrained in public consciousness seven centuries after it occurred that media outlets immediately reach for it when searching for a metaphor in the swine flu story: the Black Death.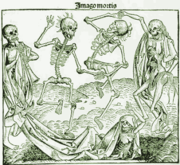 That especially pernicious outbreak of the bubonic plague occurred during the very much unglobalized Middle Ages. And yet it is thought to have traveled from China to Europe, where it wiped out around 75 million people in four years, cutting world population by a fifth. The disease traveled across the world rapidly despite the comparatively fewer global connections. Now, in the 21st century, the reason why we are so far away from repeating such an appalling scenario is, I would argue, the result of globalization's good side.
Far from blaming Mexico for this outbreak, we should be applauding it for its sensible policy responses, especially the moves taken to limit large gatherings of people, which now appear to be paying off as the rate of case increase encouragingly shows signs of slowing. Such policy response are themselves a product of globalization, of the possibility it offers for a massive, immediately accessible pool of shared knowledge and coordinated international reaction. The World Health Organization is in the eye of the storm right now, but if this scare subsides - which it probably will - the body will rightly deserve applause for the multilateral coordination it has fostered. This too is an outcome of globalization. Margaret Chan's experience in handling the 1997 bird flu outbreak in Hong Kong and then the SARS scare a few years later represents an invaluable background of experience to bring to the table in this case. If only those 75 million Europeans could have had a Chinese bubonic plague expert at their avail 660 years ago.
In fact, the rise of global quasi-regulatory bodies such as the WHO - and the anti-global capitalism activists' favorite bogeyman, the World Trade Organization -  is a central element of globalization. It is the expanded reach and application of the international norms and treaties upon which these bodies are founded that has facilitated global capitalism, not the other way around. And when global capitalism - in this case, outsourced pig farming and air travel - creates a problem, these international bodies, these stewards of globalization, step up to the plate. We are of course seeing exactly the same with the G-20 summits and other multilateral efforts to confront the global economic crisis.
Some countries are not sticking with the program, of course. Rather than keeping the lines of communication and human interaction open in the face of this scare, they're closing their borders. But notably, the only two that have ignored expert opinion that stopping air travel from Mexico would be ineffective against the swine flu scare (and counterproductive to the global economy) are two countries whose governments make a habit of railing against global capitalism: Cuba and Argentina. Coincidentally, both countries have also done a terrible job handling outbreaks of dengue fever in the last two years.
Nowhere has globalization produced better benefits from international knowledge sharing than in the field of medicine. And so it is that we don't just hope that a vaccine will soon come for this strain of flu. We expect it. The WHO is trying to downplay expectations, warning that a vaccine may take months. A couple of months? But let's put that into the perspective of 1347, the start of the Black Death. Given that the rate of deaths increased exponentially as the four-year plague dragged on, a vaccine in two months would have reduced the total eventual number by tens of millions.
Let's not throw the baby out with the bath water.