27 April 2009 | 7:19 pm
8 Comments
Oops. I started an international incident.
For those new to the story, I wrote yesterday about the spectacular overreaction in South Florida to the extremely low-key little presentation of my extremely non-ideological book at the U.S. Embassy's extremely small authors' reading booth at the Buenos Aires Book Fair on Friday. Far from being a big taxpayer-funded "forum" on Guevara, as some readers of the Miami Herald saw it, the embassy just provided the space for two separate 2o-minute reading and discussion sessions. I provided the vocal chords.  I was one of many other U.S.-associated authors who were given a chance to showcase their work to visitors of the fair.
My talk was a little different from the typical book reading, simply because I used a projector and talked about images, icons and myths. But if it was at all provocative it would have been far more so to Argentine lefties, who would not have liked my thesis that Castro manipulated the image of Che to sell a false romantic idea of his revolution, than to right-wingers. And yet now I read that Ileana Ros-Lehtinen, the Florida congresswoman and longstanding Washington kingmaker for the Cuban-American lobby, has formally complained to Secretary of State Hillary Clinton about the "deplorable" use of taxpayer funds to "praise Che" during an event that ended up "venerating" a "ruthless murderer." (Total cost to U.S. taxpayers would by my estimation be about $1.50 - you'd have to pro-rata the three-week lighting cost for the stand for that which was relevant to my 40 minutes in one corner of the stand, so I apologize for not having a more accurate figure available.  As for venerating Che, well, read the book and judge for yourselves.)
Hey, I was just thinking: with pig flu, Afghanistan, the global economic crisis, and all that heavy stuff, maybe Hillary Clinton has better things to do than worry about my book reading. But I might be wrong. And the Congresswoman clearly believes her voters need to be heard on this matter. So to be fair I've included her press release in full below. (It is not yet up on her web site.)
But before I go there, a little bit of fun. This shot was taken after Friday's event at the fair: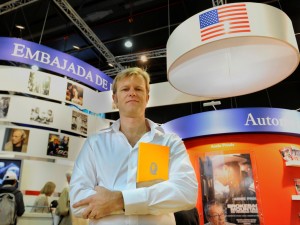 Photo by Daniel Garcia.
Here's the press release.
NEWS
House Foreign Affairs Committee
U.S. House of Representatives
Ileana Ros-Lehtinen, Ranking Republican
CONTACT:     Brad Goehner, (202) 226-8467, April 27, 2009
Alex Cruz, (202) 225-8200
http://foreignaffairs.republicans.house.gov
For IMMEDIATE Release
Ros-Lehtinen Comments on U.S. Funding of Che Guevara Event
Condemns Use of Taxpayer Funds to Praise Brutal Che
(WASHINGTON) – U.S. Rep. Ileana Ros-Lehtinen (R-FL), Ranking
Republican on the House Foreign Affairs Committee, commented today on
U.S. sponsorship of a Che Guevara event at the Buenos Aires 35th
International Book Fair this weekend.  Statement by Ros-Lehtinen:
"Che Guevara was a ruthless murderer and enthusiastic enemy of the
United States.  It is incomprehensible that the State Department would
use American taxpayer funds to sponsor an event venerating him.
"Partnered with the Castro brothers, Che directed the execution of
hundreds of Cubans who would not bow to his violent revolutionary
agenda.  But Che had more than Cuban blood on his hands.  His campaign
led to the murder of countless victims throughout Latin America.
"It is bad enough that tyrants throughout the region idolize him and
use him to justify their dictatorial ways.  Now, the U.S. is going to
prop him up as well?
"The U.S. Embassy's support and funding of this event is deplorable
and goes against the very ideals our country stands for.
"U.S. taxpayer funds are to be used to advance U.S. national security
interests.  Instead, the U.S. Embassy in Argentina is using American
tax dollars to advance the radical agenda of those working feverishly
to threaten regional stability and undermine critical U.S. foreign
policy priorities in the region.
"I have contacted the Secretary of State on this matter and will be
using our Committee's role in the State Department budget process to
ensure not one more cent goes to fund these types of activities."
BACKGROUND: On April 24th, the U.S. Embassy in Buenos Aires sponsored
an event at the Buenos Aires 35th International Book Fair titled "From
Image to Icon: El Che."  According to reports, this event included two
readings of Che's Afterlife: The Legacy of an Image, by journalist
Michael Casey.
####